RECIPIENT
Veronika Ivanova (born 1992, Lithuania) is a curator, writer and researcher based in Toronto. Ivanova is currently the Director of Crutch Contemporary Art Centre, as well as a PhD fellow at York University. Ivanova holds a Master of Fine Arts degree in Criticism and Curatorial Practice (2018) from OCAD University, and a Bachelor of Science degree in Philosophy (2016) from Portland State University. Recent exhibitions and publications include "Planet of Weeds" (July 2019) featuring Garrett Lockhart, Nikki Woolsey, and Suzanna Zak at Crutch Contemporary Art Centre, "2020" (July 2019) featuring Zeesy Powers, Angus Tarnawsky, and Anton Vidokle at Crutch Contemporary Art Centre, and "Ethics of Encounter" (2018) Successful Press.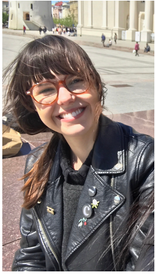 OPPORTUNITY DESCRIPTION
OCAD University's Faculty of Art welcomes Veronika Ivanova as the Junior Managing Editor to support the upcoming Faculty of Art's publication celebrating the history of the Nomadic Residency. Veronika will report to the Acting Dean of the Faculty of Art, and will assist in research, editing, and production activities to ensure timely delivery of a quality publication.
Launched in 2006 with the generous support of Partners in Art, Nomadic Residents aims to inspire and influence the OCAD University community and the public by featuring artists and thinkers from around the world whose work questions issues such as travel, mobility, displacement, dislocation and homelessness, as well as the speed or instability of modern life. In bringing these innovative and diverse individuals to take up temporary residence at OCAD U, Nomadic Residents joins here to there, the local to the global and the provisional and the permanent. The series continues with the generous support of the Jack Weinbaum Family Foundation.


YYZBOOKS is an alternative Canadian press dedicated to critical writing on art and culture. Their mandate is to encourage ideas and critical thinking and to foster appreciation of contemporary Canadian art and culture by producing challenging yet accessible publications that reach diverse audiences.