RECIPIENT
Corynn Kokolakis is an emerging artist and mom of three. Having stepped away from the arts for over a decade to create her family, she has spent the last few years revelling in paint, exploring subjects and redeveloping her skills. Her vivid paintings record intimate moments of transition and development, capturing children when they are most honest and without reserve. Her work can be found in private collections throughout Ontario, New York, and California. Corynn currently lives and works in Toronto.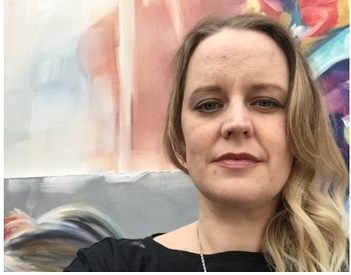 OPPORTUNITY DESCRIPTION
The Centre for Emerging Artists & Designers is excited to announce that Corynn Kokolakis, a recent graduate of OCAD University's Drawing & Painting program, is the recipient of the 4th annual Akin Collective Career Launcher! Corynn will receive studio credits at Akin inspiring shared workspaces in 2019–2020, valued at $2000.
The AKIN Collective Career Launcher is an amazing opportunity for graduating students to become part of a larger creative community and gain access to the excellent multidisciplinary facilities that Akin Collective has to offer. Applications were reviewed by an Akin Collective staff member, an Akin tenant, a DRPT faculty member, and staff from the Centre for Emerging Artists & Designers.
Akin Collective is a Toronto-based arts organization that provides affordable studio space as well as arts-based programming through it's sister non-profit organization, Akin Projects. Our studios provide a working environment that maintains a friendly and inspiring atmosphere where people can work on creative endeavours and entrepreneurial undertakings of all kinds. We build community through monthly art critiques, workshops, open studio events, gallery tours, exhibitions, as well as various other art projects.