Slate Asset Management: Call for Artists
We're excited to announce Rashvena Khosa and Young-Mi Won as the recipients of the Slate Asset Management 2023 Career Launcher.
Rashvena Khosa
Rashvena Khosa is an Indian/Malaysian interdisciplinary artist in Brampton and Tkaronto/Toronto. Receiving a Bachelor's of Fine Art in the Drawing and Painting program and a minor in Printmaking at OCAD University. Their practice explores spaces of fragmentation by investigating vibrancies of colour within given environments to create diverse spaces through collage and colour in paintings and print work. Their current practice surrounds the theme site/place/space while deconstructing discourses of time, space, memory and colour perception.
Website: www.portfolio-rashvena.format.com
Instagram: @rashvena
Youngmi Won is a Korean Canadian interdisciplinary artist and educatorbased in Toronto. Her practice focuses on navigating the collaborative andinnovative possibilities between analogue and digital techniques through photography,painting, and video installation. Embracing escapism, she composes thedreamlike yet equivocal space where illusion and daily life coexist as animaginary resistance to unsettling, transient reality. She received her bachelor'sdegree in Painting and Art History from Ewha Womans University in Korea andworked as an art educator for ten years. She also recently completed her BFA inDrawing and Painting with a minor in Art History at OCAD University.
Youngmi's work will be installed later in 2023.
Website: www.wonyoungmi.format.com
Instagram: @studio_youngwon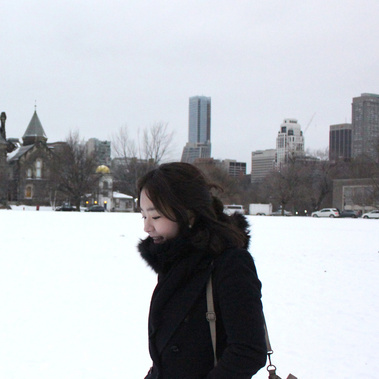 OPPORTUNITY DESCRIPTION
OCAD University's RBC Centre for Emerging Artists & Designers is excited to announce a call for artists in partnership with Slate Asset Management. Slate Asset Management is seeking proposals for a rotating public art exhibit that will animate the lobby of 2 St. Clair West in the Yonge St. + St. Clair Avenue West community. Slate welcomes Drawing & Painting students graduating in 2023, working in all mediums to submit proposals. Slate is seeking medium to large-scale pieces to be displayed on two walls in the lobby. Slate's rotating art program will occur two times a year.
A minimum of 2 proposed pieces are expected, and the option exists for the presentation of multiple small pieces. This call is for existing finished works.
Selected artists will have a solo showing of their work in one or two time slots. See timeline below.
FEE: The selected artist will receive a $3,000 rental fee for the 6-month display of their works. A brief artist bio will be displayed alongside the works.
OCAD U RBC CEAD and Slate Asset Management are committed to promoting access to this opportunity for equity-seeking groups that are under-represented as creative entrepreneurs. We encourage applications from individuals of equity-seeking communities including racialized and Indigenous persons, persons with disabilities, women and persons of all sexual orientations and gender identities/ expressions. Applicants are invited to voluntarily self-identify with any of these communities in their application.


CRITERIA
Proposed pieces must fill both walls appropriately. See floor plan and photos here.
Pieces can be exhibited with option for sale at the end of the term to be facilitated by the artist directly (Slate does not take a percentage of sales)
When appropriate, pieces must be framed (i.e. works on paper etc)
Large scale pieces are encouraged
The artist is responsible for installing the works, or for arranging the installation of the works, and for any ancillary costs, related to installation and de-installation
SITE AND AUDIENCE
Applicants can visit the location to see the space, if they wish; Monday - Friday, 8am - 6pm. Selected artworks will be on display to tenants of the building and visiting members of the public.


TIMELINE

April 24, 2023 – Proposals Due
Week of May 8 or 15 – Selected artists are notified.
Beginning of August 2023 – end of January 2024: First Artist & exhibition
Beginning of February 2024 – end of July 2024: Second Artist & exhibition
LOCATION
Selected work will be shown at 2 St. Clair West, Toronto (St. Clair West Avenue at Yonge St.)

APPLICATION SUPPORT
The OCAD U RBC CEAD is committed to promoting substantive equality for equity-seeking groups that are under-represented in the creative sector. We encourage applications from first-time applicants to the program and graduates of equity-seeking communities including racialized and Indigenous persons, persons with disabilities, and persons of all sexual orientations and gender identities / expressions. Applicants are welcome to advise the CEAD of any accommodations needed to ensure you have access to a fair and equitable process. Applicants who need assistance with their submissions are invited to connect with the RBC CEAD for Advising support. Click here to learn more about how to book an advising appointment.
PARTNER
Slate Asset Management

QUALIFICATIONS
Open to OCAD U Drawing & Painting students graduating in 2023
Priority will be given to applicants who have not previously received a Career Launcher opportunity
Be available for install and deinstall for your exhibition period if selected

SUBMISSION REQUIREMENTS
Full contact information(Name, phone, and email)
Current CV
Statement of Interest that includes an artist bio (100-word max)
Short written proposal (250 words max). In your proposal, include renderings/sketches of the pieces which you are proposing for display. Dimensions and photos of the work are required.
DEADLINE
Monday, April 24, 2023, 8:00 AM ET


SUBMISSION INSTRUCTION
Apply via Typeform: http:/bit.ly/SlateCL2023Apply


ACCESSIBILITY
Applicants who have concerns about meeting a Career Launcher application deadline are invited to connect with the CEAD in order to discuss possible alternatives. We encourage all who might require assistance with the application process to reach out to determine available support. Outreach of this nature should be undertaken at least one week prior to the published application deadline.