Art Metropole,
Programs, Publications and Shop Assistant
RECIPIENT
We're excited to announce Arshdeep Kang as the recipient of the Art Metropole Programs, Publications & Shop Assistant Career Launcher.
Interested in syncretic design practices, I find ways to combine the design thinking I've learned from school with the visual languagefrom my South Asian culture. As I have learned and practiced "less is more" in the minimalistic design scene, I also like exploring the "more with less"concept derived from my culture, getting the most output possible within imposed restrictions. This point of view took me far in my designs where I got to be more explorative and playful within my creative process.
Website: www.arshdeepkang.com
Instagram: @_arshdeepkang
LinkedIn: Arshdeep Kaur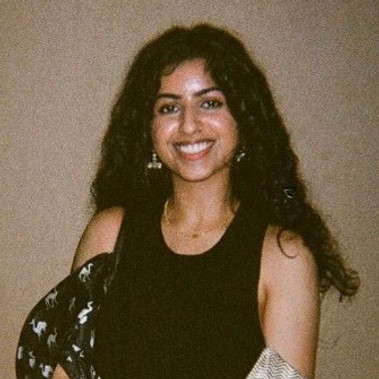 OPPORTUNITY DESCRIPTION
Art Metropole is a non-profit visual arts centre with a focus on contemporary art in formats predisposed to circulation and dissemination:artists' books and art publications, video, audio, electronic media, and multiples. Art Metropole distributes works through its space at 896 College Street, pop-up and satellite locations, and online. Art Metropole produces exhibitions, talks, screenings, performances and other programming that feature and/or intersect with distributed art practices; and manages a public art collection and archive pertaining to these practices.
The centre was founded in 1974 by the artist collective General Idea, as a division of Art-Official Inc. (1972). Art-Official's mission is to facilitate and document collaboration and exchange of ideas between artists. The company had served as the non-profit business entity for General Idea's File Magazine (1972–1989). Art Metropole was conceived as a related artist-run centre and collection agency devoted to the documentation, archiving and distribution of all the images.
OCAD University's RBC Centre for Emerging Artists & Designers is excited to announce a recruited placement in partnership with Art Metropole for the role of Programs, Publications & Shop Assistant. The Programs, Publications & Shop Assistant will join Art Metropole's team to support activities at their 896 College Street space, at pop-up locations, and online. This is a fantastic opportunity for OCAD U students and recent graduates interested in building skills and knowledge in an artist-run-centre with a focus on artist's publications and related programming. The role will be a combination of remote and in-person work.
Art Metropole is actively taking measures to ensure better representation of equity seeking culture workers throughout the organization, particularly in leadership and governance. We strongly encourage and will prioritize applications from those who are Black, Indigenous, people of colour, Queer, Trans, disabled, and from other self-identifying applicants. Artists and other cultural workers often face precarious working conditions, lack of job security, and below average wages. Art Metropole has committed to addressing these issues, and is proud to be a certified Living Wage Employer, with all staff at Art Metropole earning at least $23.15 per hour, the living wage calculated for Toronto.


DUTIES AND RESPONSIBILITIES

Shop (Approx. 40%)
- Fulfilling online shop orders, including packaging inventory and facilitating shipping and/or curbside pickups from AM's shop
- Assisting with retail duties in-person at AM's College St shop location, and/or at pop-up events as needed
Programming (Approx. 25%)
- Working closely with the Executive and Assistant Directors to contribute to programming planning; including supporting grant applications, coordinating artist contracts, communicating with artists and partner organizations, as needed
- Assisting with the coordination of program logistics, including in-person and online book launches, talks, and/or other artist projects
Publications (Approx. 25%)
- Supporting the planning, production, and promotion of Art Metropole publications
- Working alongside Art Metropole staff to support publication distribution logistics
General administration (Approx. 10%)
- Assist with general office duties and tasks, as needed
VACCINATION POLICY
Art Metropole operates in a small space that does not always allow for staff to distance from each other at all times. In order to protect employees from health and safety risks during the current pandemic, proof of full COVID-19 vaccination will be required for the selected candidate prior to their start date. Accommodation requests for new hires that are unable to get vaccinated against COVID-19 on medical or other legally protected grounds must be provided in writing.


APPLICATION SUPPORT
The OCAD U RBC CEAD is committed to promoting substantive equality for equity-seeking groups that are under-represented in the creative sector. We encourage applications from first-time applicants to the program and graduates of equity-seeking communities including racialized and Indigenous persons, persons with disabilities, and persons of all sexual orientations and gender identities / expressions. Applicants are welcome to advise the CEAD of any accommodations needed to ensure you have access to a fair and equitable process.
Applicants who need assistance with their submissions are invited to connect with the RBC CEAD for Advising support. Click here to learn more about how to book an advising appointment.


ACCESSIBILITY
Applicants who have concerns about meeting a Career Launcher application deadline are invited to connect with the CEAD in order to discuss possible alternatives. We encourage all who might require assistance with the application process to reach out to determine available support. Outreach of this nature should be undertaken at least one week prior to the published application deadline.



PARTNER
Art Metropole

www.artmetropole.com

896 College Street, Toronto, ON M6H 1A4


QUALIFICATIONS
Current OCAD U students in any discipline in their final year at the Undergraduate level or any year at the Master's level. Recent OCAD U Undergraduate or Master's grads (2022)
Knowledge of and experience with contemporary art practices or non-profit artist-run centres; familiarity with artist's books and bookselling is an asset
Excellent written and oral communication skills; attention to detail and excellent organizational skills
Ability to multitask and manage long and short-term projects
Demonstrated experience with project management and logistics coordination Mac OS proficiencies with Microsoft Office Suite, Adobe Photoshop, Illustrator and InDesign
Customer service and retail experience would be considered an asset
Experience with art handling, archival material, or installing art exhibits is a considerable asset
Priority will be given to applicants who have not previously received a Career Launcher opportunity
SUBMISSION REQUIREMENTS
Resume including full contact information (name, phone, and email)
Cover letter outlining your interest in this specific opportunity and how it could support your interests and goals for professional creative development (400 words max)
RATE:
$23.15/ hour, for 21 hours per week


TERM:
Part-time contract beginning in mid-May to end of December, 2023


DEADLINE
Thursday, March 30 2023, 8:00 AM ET


SUBMISSION INSTRUCTION
Apply via Typeform:
https://bit.ly/ArtMetropole2023Apply