RECIPIENT
We're excited to announce Vladimir Kanic as the recipient of the Artist Project 2023 Career Launcher. Vlad will be presenting a new piece in his ongoing body of work with algae for the 2023 fair.
Vladimir Kanic is a multidisciplinary artist and environmental activist whose practice explores and experiments with the creation of living art. His practice began during the pandemic, when he had no access to art studios or materials, but had three boxes of algae salad in his fridge. After years of academic research and development, the experimentation with the algae salad lead to the invention of new sculpting materials made from organic biopolymers and creation of sculptures with living algae cultures. In this way, Kanic has been sculpting with planetary memories – the gasses produced by the burning of Earth's geological layers (such as coal, oil and gas) are consumed by his algae as food and incorporated within the sculptures as an experimental archive of Earth's evolution and its memories.

Kanic's work also questions the relationships in between human and non-human beings, and the possibilities of developing symbiotic relationships in between the spectators and art in situ while exploring the quintessential non-binarity of nature. His pioneering work with biopolymers and living algae has been recognized by the Torontonian academic and art community where he has won several awards for best academic achievement, research and work, the most recent being InterAccess Media 2022 prize and Mitacs 2022 Research Award. Kanic has also held multiple exhibitions of his bioart in 2022, including a six-month-long solo exhibition at the Abbozzo Gallery at 401 Richmond and Nuit Blanche at Humber Galleries. His bioart sculptures have a potential to curb the effects of global climate change and deal with the pressing issues of our zeitgeist.
Vladimir Kanic studied science at the Goldsmiths University of London and art at OCAD University in Toronto, where he holds a BFA degree in Interdisciplinary media.
Website: www.vladimirkanic.com
Instagram/Twitter/Vimeo: @vladdkanic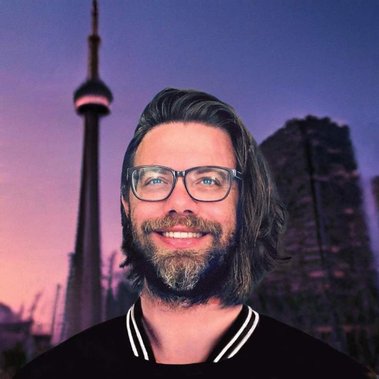 OPPORTUNITY DESCRIPTION
The Artist Project Contemporary Art Fair and The Centre for Emerging Artists & Designers are excited to announce the return of the Artist Project Career Launcher for an upper year student or recent graduate of the Integrated Media, Digital Futures, Sculpture/Installation or Interdisciplinary Master's in Art, Media and Design programs. Students and recent alumni are invited to apply for this paid opportunity which provides a professional venue and large public audience for their work. The successful applicant will participate in the 15th annual Artist Project Contemporary Art Fair; held at the Better Living Centre, Exhibition Place, April 13 - 16, 2023.
The Show Director will select a successful applicant and The Centre for Emerging Artists & Designers will provide a $2,100 production/artist fee grant towards the realization of this outstanding opportunity.

Tips for a successful application:
Dimensions of the project space are roughly 10 x 30' square feet in size.
The space provided at the fair is located among other exhibiting artists. It is important to keep the sound levels of the proposed project minimal.
The fair hall is lit with overhead lighting and high ceilings. Creating an enclosed dark space would be difficult.
The suspension of materials from overhead is not possible in the fair hall.
The fair is family friendly. Therefore project content should not include nudity or profanity.
A wall cannot be guaranteed. Artists are encouraged to imagine projects that can be viewed from a 360° perspective.
A changing and/or staging area will be provided as needed
Artists will be responsible for their own transportation and installation
AV equipment and electricity needs must be sourced from the Better Living Centre venue. Below is a general breakdown of associated costs:


Electrical outlet: $175
Overhead light (Highbays): $275
Wall mounted light (Arm lights): $83
APPLICATION SUPPORT
The OCAD U RBC CEAD is committed to promoting substantive equality for equity-seeking groups that are under-represented in the creative sector. We encourage applications from first-time applicants to the program and graduates of equity-seeking communities including racialized and Indigenous persons, persons with disabilities, and persons of all sexual orientations and gender identities / expressions. Applicants are welcome to advise the CEAD of any accommodations needed to ensure you have access to a fair and equitable process. Applicants who need assistance with their submissions are invited to connect with the RBC CEAD for Advising support. Click here to learn more about how to book an advising appointment.


ACCESSIBILITY
Applicants who have concerns about meeting a Career Launcher application deadline are invited to connect with the CEAD in order to discuss possible alternatives. We encourage all who might require assistance with the application process to reach out to determine available support. Outreach of this nature should be undertaken at least one week prior to the published application deadline.
PARTNER
The Artist Project
Date: April 13 - 16, 2023
Location: Better Living Centre, Exhibition PlaceToronto
QUALIFICATIONS
Current student or recent graduate of Integrated Media, Digital Futures, Sculpture/Installation or Interdisciplinary Master's in Art, Media and Design programs (2021 and 2022).
Priority will be given to proposals that consider the venue details.
Priority will be given to applicants who have not previously received a Career Launcher opportunity
DEADLINE
Monday, February 6, 2023, 8:00 AM ET


INFO SESSION (Artist Project Career Launcher)
Tuesday, January 24, 2023
1:00 - 2:30 PM ET

Join our upcoming info session to learn more about the Artist Project, and resources for putting together a strong application.


SUBMISSION REQUIREMENTS
Contact info (Name, phone, and email)
Current creative CV
Website and/or social Media handle
• Artist statement/bio (150 words max)
A short proposal which communicates your interest in the opportunity and a very clear expression of your project proposal (500 words max)
Link to your relevant portfolio and/or links to recorded material (Vimeo, YouTube etc.). Do not send video files.