ARTISTS
We're excited to announce Damon Couto-Hill and Veerta Kumar as the recipients of the Akin Career Launcher.
Damon Couto-Hill is a Portuguese/Mohawk man and an interdisciplinary visual artist. He is a Six Nations of the Grand River member who grew up in Scarborough and currently lives and works in Toronto, Canada. He works with digital collages to entangle his body with images of Canada, nature, the Western art canon, and the internet to visualize the dysfunctions of Western collective consciousness through an intuitive, dream-like lens. He then translates the digital collage into physical form as fragmented wood panels painted in acrylic and oil, making the image again upon the scattered shards of a slanted mosaic.
Instagram: @damond.liver
Veerta Kumar was born in India in 1999 and lives and works in Toronto. She considers the flux, chaos, and fragments of our perceptions to decolonize modes of re-presentation and re-creation. In the past year, she observed the interaction of paint and light and engaged in various modes of making and materials, including ornamentation, textiles, found materials, family album photos, personal photography, and digital manipulation.
Kumar completed her Bachelor of Fine Arts in Drawing and Painting in 2023 from OCAD University. She received the John Madott Fine Art Award for her recent body of work Tedhi Nazar exhibited at Grad Ex 108.
Website: www.veertakumar.ca
Instagram: @_veertakumar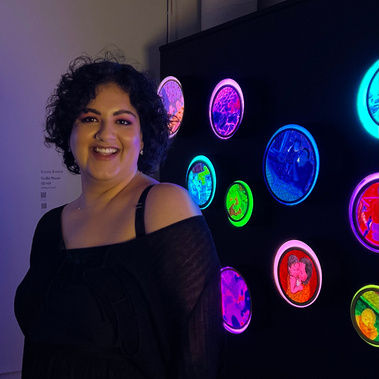 OPPORTUNITY DESCRIPTION
The Centre for Emerging Artists & Designers is excited to announce the return of the Akin Career Launcher for Drawing & Painting, Integrated Media, Indigenous Visual Studies, Cross Cross-Disciplinary Art: Life Studies, and Sculpture & Installation students in their graduating term.
Akin is a Toronto-based arts organization that provides creative studio space as well as arts-based programming. Akin's studios provide a working environment that maintains a friendly and inspiring atmosphere where people can work on creative endeavours and creative entrepreneurial undertakings of all kinds. They build community through accessible and educational programming along with open studio events, gallery tours, exhibitions, as well as various other art projects.
Students are invited to apply for this opportunity and two successful applicants will be awarded $2,000 in credits to go towards a studio space at Akin's shared workspaces in 2023-2024! In addition to the $2,000 studio credit, each recipient will receive $450 credit for use at Remote Gallery at Richmond and Portland. Remote Gallery provides the opportunity to exhibit work, host workshops / artist talks, or other activities relevant to early career growth.
This is an amazing opportunity to become part of a larger creative community and gain access to the excellent multidisciplinary facilities that Akin Collective has to offer.


QUALIFICATIONS
Must be a DRPT/INTM/INVC/LIFE/SCIN student in their graduating year
Must have the intent of remaining in the region following graduation to make use of this opportunity
Priority will be given to applicants who have not previously received a Career Launcher opportunity

*Akin is currently at capacity for artists who require access to ceramic facilities. Artists who are seeking access to ceramic facilities are encouraged to apply for the Career Launcher fund.

APPLICATION SUPPORT
The OCAD U RBC CEAD is committed to promoting substantive equality for equity-seeking groups that are under-represented in the creative sector. We encourage applications from first-time applicants to the program and graduates of equity-seeking communities including racialized and Indigenous persons, persons with disabilities, and persons of all sexual orientations and gender identities / expressions. Applicants are welcome to advise the CEAD of any accommodations needed to ensure you have access to a fair and equitable process.


ACCESSIBILITY
Applicants who have concerns about meeting a Career Launcher application deadline are invited to connect with the CEAD in order to discuss possible alternatives. We encourage all who might require assistance with the application process to reach out to determine available support. Outreach of this nature should be undertaken at least one week prior to the published application deadline.
PARTNER

Akin

SUBMISSION REQUIREMENTS
Full contact information (Name, phone, and email)
Current CV
A brief statement/bio that contextualizes your overall practice (150 words max)
Online portfolio or an attached PDF portfolio. Include 5-7 sample support images of past artwork in a single PDF
A statement of interest that contextualizes your intent to use the studio and outlines the significance of the opportunity (400 words max)
DEADLINE
Thursday, May 11, 2023, 8:00 AM ET

SUBMISSION INSTRUCTION
Submit via Typeform here:
https://bit.ly/AkinCL2023Apply
Contact

Shellie Zhang
Special Projects Coordinator
E: szhang@ocadu.ca