2022 Secret Planet, Studio Assistant
RECIPIENT
We're excited to announce Erica Young as the recipient of the inaugural Secret Planet, Studio Assistant 2022 Career Launcher.

Erica Young is a Winnipeg-born and Toronto-based multidisciplinary artist working primarily in printmaking and illustration. She obtained her BA in Arts and Contemporary Studies from Toronto Metropolitan University in 2016 and her BFA in Printmaking and Publications from OCAD University in 2022. Her art has appeared in group shows in Canada and America, in murals, on album covers, and on show posters.
Website: erica-young.format.com
Instagram: @ecfyoung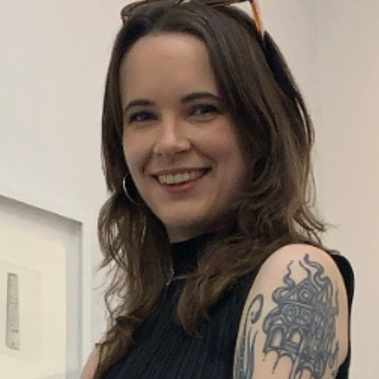 OPPORTUNITY DESCRIPTION
Secret Planet is a screen printing studio in East End Toronto that doubles as a stationery gift shop as well as a community space and zine library. Secret Planet specializes in handmade art prints, stationery, books, and paper products. They also sell goods by local artists.
OCAD University's RBC Centre for Emerging Artists & Designers is excited to announce a recruited placement in partnership with Secret Planet for the role of Studio Assistant. This is a great opportunity for artists and designers interested in screen printing, stationary, learning more about how to run a print studio, and working with local artists. Working closely with Secret Planet Print Shop, the Studio Assistant would gain hands on knowledge around the day-today workings of running and managing a print shop with their team.
In addition to working with Secret Planet, the recipient will be given a three day rental credit ($300 value) and $150 materials credit from the CEAD. To be used near the end of summer 2022, the recipient can use the credit towards full access to Secret Planet's equipment and print studio for an independent project. Secret Planet will be available to help advise, troubleshoot and guide their project.


RATE

$20 hour, for 7-10 hours per week (Mondays/Tuesdays)

TERM
Part-time contract, beginning in June to August 2022


ROLE & RESPONSIBILITIES
Pre-press duties (coating, exposing, washing, reclaiming screens)
Mix ink to match pantones/colour swatches
Register/set up single and multi-layer prints
Quality control and count prints
Maintain a clean and orderly studio space
Occasional retail duties (check out, helping customers, etc)
VACCINATION POLICY
The Secret Planet Print Shop operates in a small space that does not always allow for staff to distance from each other at all times. In order to protect employees from health and safety risks during the current pandemic, proof of full COVID-19 vaccination will be required for the selected candidate prior to their start date. Accommodation requests for new hires that are unable to get vaccinated against COVID-19 on medical or other legally protected grounds must be provided in writing.


APPLICATION SUPPORT
The OCAD U RBC CEAD is committed to promoting substantive equality for equity-seeking groups that are under-represented in the creative sector. We encourage applications from first-time applicants to the program and graduates of equity-seeking communities including racialized and Indigenous persons, persons with disabilities, and persons of all sexual orientations and gender identities / expressions. Applicants are welcome to advise the CEAD of any accommodations needed to ensure you have access to a fair and equitable process. Applicants who need assistance with their submissions are invited to connect with the RBC CEAD for Advising support. Click here to learn more about how to book an advising appointment.


ACCESSIBILITY
Applicants who have concerns about meeting a Career Launcher application deadline are invited to connect with the CEAD in order to discuss possible alternatives. We encourage all who might require assistance with the application process to reach out to determine available support. Outreach of this nature should be undertaken at least one week prior to the published application deadline.
PARTNER
Secret Planet Print Shop
Location:
918 Danforth Ave
Toronto, Ontario
M4J1L9
INFO SESSION
Monday, April 11, 2022, 2-3 PM
Click here to RSVP
Join our upcoming info session to learn more about Secret Planet and resources for putting together a strong application.

QUALIFICATIONS

All Undergraduate and Master's students graduating in 2022
A basic understanding of screen printing on paper, knowledge of colour theory, and willingness to learn new things
Monday/Tuesday availability
Experience printing on textiles, a basic knowledge of Photoshop, strong interest in colour overlays or a strong interest in illustration would be considered an asset
Priority will be given to applicants who have not previously received a Career Launcher opportunity

SUBMISSION REQUIREMENTS
Full contact information (Name, phone, and email)
Current resume
A cover letter outlining your interest in this specific opportunity (400 words max)
A short statement outlining the potential significance of the opportunity to your practice and/or development (100 words max)
DEADLINE:
Friday, April 29, 2022, at 11:59 PM