Parks Canada, Visual Creative Content Specialist
RECIPIENT

We're excited to announce Brynn Murphy as the recipient of the Parks Canada, Visual Creative Content Specialist Career Launcher.
Brynn Murphy is an Ontario-based photographer entering her fourth year at OCAD University, working towards a BFA inPhotography. She specializes in outdoor natural light photography, with an interest in wildlife photography as well as capturing the interactions between nature and the urban environment.
Brynn's interests stem from a love for nature and a deep interest in the history and diversity of the natural world. Her work aims to deliver knowledge and awareness of Ontario's biodiversity, and bring more wilderness into fine art photography.
Website: www.brynnnnn.com
Instagram: @brynnnnnnnnnnnnnnn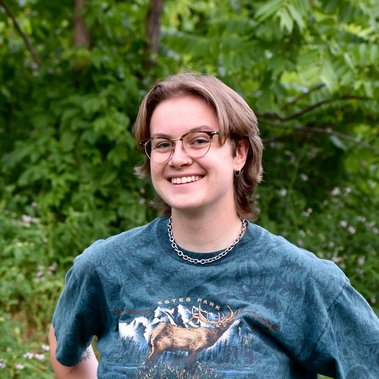 OPPORTUNITY DESCRIPTION
The RBC Centre for Emerging Artists & Designers (CEAD) is excited to announce the return of the Parks Canada Career Launcher for technically savvy students with photography and videography skills. Students, that will be returning to school in Fall 2021 are invited to apply for this opportunity. A successful applicant will be employed at Rouge Park - Canada's first national urban park!
The recipient will split their time between the office and/or from home and the park; processing images in the Rouge National Urban Park photo library, shooting imagery with drones and traditional cameras, doing design tasks for the Park's Communications department, and organizing and archiving images and supporting the creation of staff resources.


ABOUT THE ROUGE NATIONAL URBAN PARK
A rich assembly of natural, cultural and agricultural landscapes, Rouge National Urban Park is home to amazing biodiversity, some of the last remaining working farms in the Greater Toronto Area, Carolinian ecosystems, Toronto's only campground, one of the region's largest marshes, amazing hiking opportunities, and human history dating back over 10,000 years, including some of Canada's oldest known Indigenous sites.
Parks Canada is excited to work towards the establishment of Canada's first national urban park – Rouge National Urban Park – in the Greater Toronto Area.
SKILLS & QUALIFICATIONS
Strong photographic skills are desired
A candidate who is generally technically savvy is desired
(PowerPoint, virtual presentations, digital communications etc)
Ability to work independently and take initiative
Social media skills and experience is desired
Skills in videography, drone operations, and graphic design will be considered as an asset
Illustration skills are a bonus
RATE
$16.49/hour for 37.5 hours/week
TERM

Full time, 15-weeks, commencing in May/June 2022


APPLICATION SUPPORT
The OCAD U RBC CEAD is committed to promoting substantive equality for equity-seeking groups that are under-represented in the creative sector. We encourage applications from first-time applicants to the program and graduates of equity-seeking communities including racialized and Indigenous persons, persons with disabilities, and persons of all sexual orientations and gender identities / expressions. Applicants are welcome to advise the CEAD of any accommodations needed to ensure you have access to a fair and equitable process.
Applicants who need assistance with their submissions are invited to connect with the RBC CEAD for Advising support. Click here to learn more about how to book an advising appointment.


ACCESSIBILITY
Applicants who have concerns about meeting a Career Launcher application deadline are invited to connect with the CEAD in order to discuss possible alternatives. We encourage all who might require assistance with the application process to reach out to determine available support. Outreach of this nature should be undertaken at least one week prior to the published application deadline.
PARTNER
Parks Canada
Rouge National Urban Park
3545 Kingston Rd. Toronto



CONDITIONS OF EMPLOYMENT
Must be a current undergraduate student from OCAD U


Must possess a valid driver's license


Available for a full time (5 days per week) 15-week position, commencing in May/June


Available to work on some weekends


Willing to undergo a basic security screening


Open to wearing a uniform for special events


SUBMISSION REQUIREMENTS
Current resume listing relevant creative experience. Include full contact info (name, phone and email)


A statement of interest that contextualizes your creative and technical skills and communicates your interest in the opportunity. Why are you a good match?


Creative portfolio (PDF or website)

Examples of social media and/or videography experience


Confirmation of the Conditions of Employment

All uploaded files must be named as follows to be considered: LastName_First Name_[item]_ParksCanada, for example, Doe_Dakota_Resume_ParksCanada


DEADLINE
Sunday April 24, 2022 at 11:59 PM EST